Andrew S Klayman B.Sc., D.P.M.- Podiatrist is a Doctor of Podiatric Medicine (D.P.M.) who is a trained in the diagnosis, treatment and prevention of foot disorders. Podiatrists are concerned about the prevention of foot disorders by mechanical, surgical and other means of treatment. Most Podiatrist education include a undergraduate degree in science prior to entry in the four year graduate degree in a College of Podiatric Medicine in the United States, followed by a residency at an accredited institution for 1-3 years. Andrew Klayman B.Sc.,D.P.M. Foot Clinic in Toronto is a modern podiatry centre providing friendly and knowlegeable foot care. Our office is focused on laser surgery for plantar warts and fungus nails, permanent correction of ingrown toenails, and custom orthotic solutions for kids and adults.
Foot Ailments A Podiatrist Treats
General:
Callouses, Corns, Athlete's Foot, Fungal Nails, Ingrown Nails, Warts
Surgical:
Ingrown Toenails, Morton's Neuroma, Laser Surgery Plantar Warts, Hammertoes, Ganglion cysts, Bunions
Podopediatric Foot Care (Children's Foot Care):
Flat feet, In-toeing, Out-toeing, Warts, Juvenile bunions, Ingrown nails.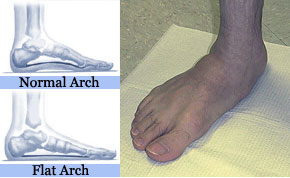 Orthopaedic Biomechanics:
Fallen arches, Arch pain, Flat Feet, Tendonitis, Heel Spurs, Heel pain, Foot Imbalance, High arches, Muscle cramps, Posterior Tibialis Dysfunction, Bunion pain, Shin Splints, Knee pain, Patellofemoral Syndrome, Limb Length Discrepancy, Low Back pain and Sport related disorders all related to improper foot biomechanics.
Podiatric Sports Medicine:
Achilles tendonitis, Plantarfasciitis, Ankle Sprain, Lateral Ankle Instability, Tendonitis, Hyperpronation (flexible low arches), Leg-Length Inequality, and Back and Hip Joint Pain, Shin Splints ( leg pain), Iliotibial Band Syndrome, Knee pain all due to improper foot biomechanics